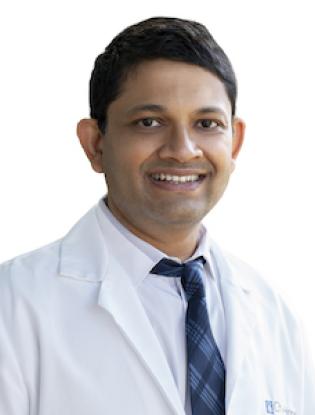 Medical Oncologist and Hematologist
Clinical Expertise
Medical Oncology & Therapeutics Research
Research Area
Gastrointestinal Malignancies
Lung Cancer
Appointments
Regional Medical Director for Antelope Valley and Kern County
Assistant Clinical Professor, Department of Medical Oncology & Therapeutics Research
Dr. Merla treated me for breast cancer. He is an excellent physician. Takes time to listen, very friendly with excellent bedside manners. Definitely recommend him.

- Patient
Amartej Merla, M.D., has broad experience in the treatment of a wide variety of malignancies, including solid tumors and hematological malignancies. He puts his patients first. His mission, as he sees it, is to provide "selfless care to the patients and placing their needs and happiness above everything."
Dr. Merla completed his medical degree in India. He was also trained in the United Kingdom before moving to the United States. He completed his internal medicine residency at St Luke's University Hospital, Bethlehem, Pennsylvania, and further completed his hematology-oncology fellowship at Albert Einstein College of Medicine/Montefiore Medical Center, New York.
Dr. Merla is excited about the ongoing research and treatment in the field of oncology. Precision medicine and targeted treatments catering to the individual needs of the patient are the major developments in the field oncology per Dr Merla. He is very happy to join City of Hope as it gives him a great opportunity to treat malignancies using world class technology and research.
Medical Oncology, American Board of Internal Medicine

Hematology, American Board of Internal Medicine
1996-2002, Doctor of Medicine, Andhra Medical College, Visakhapatnam, India
2013-2016, Hematology/Oncology fellowship, Montefiore Medical Center, Albert Einstein College of Medicine, New York, NY
2006-2009, Internal Medicine Residency, St. Luke's University Hospital/Clinical Campus for Temple University, Bethlehem, PA
2020-present, Assistant Clinical Professor, Department of Medical Oncology & Therapeutics Research, and Regional Medical Director for Antelope Valley and Kern County, City of Hope, Antelope Valley, CA

2016-2020, Medical Oncologist, Antelope Valley Cancer Center, Antelope Valley, CA

2009-2010, Instructor of Medicine, Department of Medicine, Washington University School of Medicine, St. Louis, MO

2004-2006, Senior House Officer, Internal Medicine, University Hospital of NHS Grampian, Aberdeen, UK

2002-2004, Senior House Officer, Internal Medicine/Emergency Medicine, Rotherham General Hospital, UK
2009, Michael Kimmel award for achievement in scholarly activity, St. Luke's University Hospital
Member of American Society of Clinical Oncology

Member of American Society of Hematology

Member of American College of Physicians
Merla A, Liu K, Rajdev L. Targeted Therapies in Biliary Tract Cancers. Current Treatment Options in Oncology. October 2015
Piperdi B, Merla A, Perez-Soler R. Targeting angiogenesis in squamous non small cell lung cancer. Drugs, March 2014.
Merla A, Goel S. Novel drugs targeting the epidermal growth factor receptor and its downstream pathways in the treatment of colorectal cancer: a systematic review. Chemother Res Pract, October 2012.
Rao D, Mallick AB, Amartej Merla A, et al. Excision repair cross-complementing group-1 (ERCC1) induction kinetics and polymorphism are markers of inferior outcome in patients with colorectal cancer treated with oxaliplatin. Oncotarget, 2019.
Maitra R, Nayak JB, Merla A, et al. A Single Nucleotide Polymorphism in the MGMT Gene is a Novel Prognostic Biomarker in Patients with Metastatic Colorectal Cancer. British Journal of Medicine and Medical Research, September 2014.
Ratings and reviews below are gathered from the Press Ganey Clinician and Group Consumer Assessment of Healthcare Providers and Systems (CG CAHPS) survey. CG CAHPS is a standardized survey that is used to measure a patient's experience in the physician office setting. Ratings are an average of all responses to questions about a provider's care, with 5 stars being the highest.
Ratings
4.9
Show respect for what you say
4.9
Provider explain in way you understand
4.9
Provider listen carefully to you
4.8
Know important info medical history
4.8
Spend enough time with you
4.8
Recommend this provider office
---
Reviews
Good exp.!
- Verified patient
Good Care!
- Verified patient
Dr. Merla has so far treated my case with care and compassion and appears to also listen to his patient's information carefully.
- Verified patient
Excellent care provided.
- Verified patient
Dr. Merla is an exceptional physician. Not only is he knowledgeable about his specialty, but he is also exceptional in how he relates to patients and their family. He starts with a warm hello, then a warm handshake, and throughout the encounter, he is attentive, caring and compassionate. HE IS A GEM and is greatly appreciated.
- Verified patient