April Vassantachart, M.D.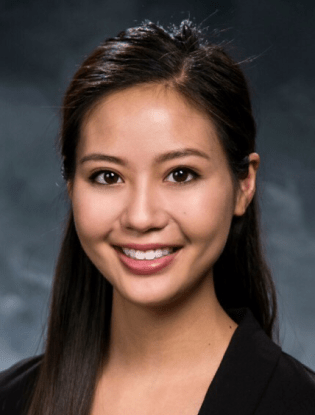 Radiation Oncologist
Appointments
Assistant Clinical Professor, Department of Radiation Oncology
Radiation oncologist April Vassantchart, M.D., knows that it is a privilege to support and guide patients through their cancer journey. As a physician, Dr. Vassantchart believes that her relationship with her patients requires a special connection that involves listening and learning on both ends to produce an individualized plan that meets the unique needs of each patient. A Southern California native, she was drawn to City of Hope because of its reputation for high-quality, innovative cancer care focused on treating the whole person.

The ability to combine her knowledge of physics and technology with medicine to provide precise, noninvasive oncologic care is what inspired Dr. Vassantchart to become a radiation oncologist. She has published an article in the International Journal of Radiation Oncology, Biology, and Physics that evaluates the effects of health literacy on understanding radiation therapy, with the goal of improving shared decision-making with diverse populations. Dr. Vassantchart has also written a book chapter on the treatment of brain metastases in Intracranial Stereotactic Radiosurgery.

In her free time, Dr. Vassantchart's hobbies include cultivating exotic house plants, playing pickleball, hiking the California mountain ranges, and exploring the food scene in Los Angeles.
2018, M.D. Loma Linda University School of Medicine, Loma Linda, CA

2014, B. S. Pacific Union College, Angwin, CA
2019-2023, Residency, Radiation Oncology, USC Keck School of Medicine, Los Angeles, CA

2018-2019, Residency, Preliminary Internal Medicine, Loma Linda University School of Medicine, Loma Linda, CA
2023-Present, Assistant Clinical Professor, Department of Radiation Oncology, City of Hope, Sherman Oaks, CA
2019 Loma Linda University Preliminary Internal Medicine Intern of the Year

2017 Walter E. Macpherson Society Student-Faculty Research Award

2016 Annual Post Graduate Convention Scientific Basic Science Research Award

2014 Pacific Union College Computer Science, Math and Physics Department Award

2014 Loma Linda Medical School Presidential Scholarship

2010-2014 Full Scholarship Award at Pacific Union College
2017, Alpha Omega Alpha Honor Medical Society
Vassantachart AK, Lock D, Han HR, Ye JC. Stereotactic Body Radiation in Breast Cancer — Definitive, Oligometastatic, and Beyond. Curr Breast Cancer Rep. Published online 2022. doi:10.1007/s12609-022-00447-1
Vassantachart A, Cao Y, Gribble M, et al. Automatic differentiation of Grade I and II meningiomas on magnetic resonance image using an asymmetric convolutional neural network. Sci Rep. 2022;12(1):3806. doi:10.1038/s41598-022-07859-0
Cao Y*, Vassantachart A*, Ragab O, et al. Automatic segmentation of high‐risk clinical target volume for tandem‐and‐ovoids brachytherapy patients using an asymmetric dual‐path convolutional neural network. Med Phys. 2022;49(3):1712-1722. doi:10.1002/mp.15490. *co-first authors
Lao Y, Ruan D, Vassantachart A, et al. Voxelwise Prediction of Recurrent High-Grade Glioma via Proximity Estimation–Coupled Multidimensional Support Vector Machine. Int J Radiat Oncol. 2022;112(5):1279-1287. doi:10.1016/j.ijrobp.2021.12.153
Mehta S, Vassantachart AK, Fossum CC, et al. Surviving Over a Decade With Glioblastoma: A Clinical Course Characterized by Multiple Recurrences, Numerous Salvage Treatments, and Novel Use of Cesium-131 Tiles. Cureus. Published online November 14, 2021. doi:10.7759/cureus.19573
Vassantachart A, Daneshmand S, Cai J, et al. Feasibility and Outcomes of Orthotopic Ileal Neobladder Reconstruction Following Pelvic Irradiation. Urology. Published online 2020:1-5. doi:10.1016/j.urology.2020.09.014
Vassantachart AY, Vassantachart AK, Chau B. Physical Medicine and Rehabilitation Residency Applicants: A Decade of Change. Arch Rehabil Res Clin Transl. 2021;3(2):100117. doi:10.1016/j.arrct.2021.100117
Cao Y, Vassantachart A, Ye JC, et al. Automatic detection and segmentation of multiple brain metastases on magnetic resonance image using asymmetric UNet architecture. Phys Med Biol. 2021;66(1):015003. doi:10.1088/1361-6560/abca53
Vassantachart A, Hwang L, Vassantachart A, Jennelle R. Residency match trends, racial disparity, and matching amidst a pandemic. Adv Radiat Oncol. Published online 2020. doi:10.1016/j.adro.2020.11.005
Dilmanian F, Krishnan S, McLaughlin W, Lukaniec B, Baker J, Ailawadi S, Hirsch K, Cattell R, Roy R, Helfer J, Kruger K, Spuhler K, He Y, Tailor R, Vassantachart A, Heaney D, Zanzonico P, Gobbert K, Graf J, Nassimi J, Fatemi N, Schweitzer M, Bangiyev L, Eley J. Merging Orthovoltage X-Ray Minibeams spare the proximal tissues while producing a solid beam at the target. Sci Rep. 2019;9(1):1198. doi:10.1038/s41598-018-37733-x