Joe Bravo is holding up a burnt flour tortilla, pointing at the marbled texture he created by overcooking it. As if conducting a Rorschach test, he asks a companion, "What do you see? Do you see any patterns or shapes?"
"Not really," says the companion.
Bravo continues, and explains something called pareidolia: "It's when you see a cloud and find a shape in it — or you look at the grainy texture of wood and see something there."
Pareidolia involves seeing things that are not overtly there. Extracting meaning from something that might not, on its face, seem to possess it. Bravo sees pareidolia in the tortilla he's holding. For decades, tortillas have been a canvas for his art.
"I tell people to look at the tortilla like they would the veins in marble or the grain in wood," he explained. "I 'interview' different tortillas and see which ones suggest things to me."
Bravo, a retired advertising agency art director and artist, who has gained international attention for his Tortilla Art and dramatic murals, is sitting at a neat, spare makeshift studio at his home in the Highland Park neighborhood of Los Angeles — a simple space including an old desk, a few paint brushes, pencils and a paint-stained pallet.
Making art has always been a platform for Bravo's social and political views. But since he was diagnosed with tongue cancer two years ago, art is playing an even deeper, more emotional role in his life.
"Going through this cancer experience, I feel more freedom to create," he says. "It's also given me freedom from fear."
Egg-Sized Lump
On New Year's Eve in 2016, Bravo was looking in the mirror when he noticed an egg-sized lump on the side of his neck that seemed to have appeared overnight.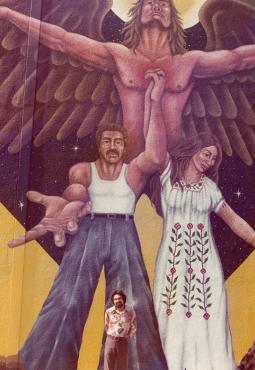 "I thought that was unusual but it didn't hurt or anything," he said. Still, he was concerned and scheduled an appointment with his primary care physician. "She took one look at the lump and right away referred me to an ENT (ear, nose and throat) doctor."
After undergoing various scans and a biopsy, Bravo got his diagnosis: squamous cell carcinoma, specifically tongue cancer. The good news was the cancer appeared to have been caught before it spread.
"I don't know how long the lump was there, but I'm just grateful that it was caught early," he said. "The good thing was that it didn't go below my clavicle. Had it metastasized below my clavicle, it would have been a whole different story."
Still, for Bravo, finding out cancer had invaded his body is not how he thought he'd be ushering in the new year.
The Mask
Bravo's doctor at Huntington Hospital in Pasadena, California, referred him to City of Hope for treatment. Bravo became a patient of radiation oncologist Helen Chen, M.D., an assistant clinical professor at City of Hope's clinical network location in South Pasadena. Christina Yeon, M.D., was his medical oncologist.
Bravo had to make an appointment with a dental oncologist before his radiation and chemotherapy treatment could begin. He needed a few teeth pulled to better access the tumor; then he received chemotherapy once a week for five hours for seven weeks straight.
He was fitted for and wore a radiation mask, and endured the treatment Monday through Friday, also for seven weeks. He said it was the most difficult part of his cancer fight. During this time, Bravo had a gastrostomy tube (G-tube) placed into his stomach to provide nutrition and medication since he was unable to swallow. He used large syringes to insert the liquid feeding formula directly into his stomach.
"I was surprisingly OK through most of it," he said. "And I responded well to the chemotherapy. I only lost a little hair under my chin. But the radiation really got me. It worked, it did what it was supposed to do, but it was horrible."
Thyroid Cancer
After completing treatment a few months later, Bravo found out one of the nodules around his thyroid was cancerous. The gland was surgically removed that July and, during his recovery, Bravo had to work with a specialist to learn how to swallow and digest food again, since the surgery and treatment made it difficult to produce saliva.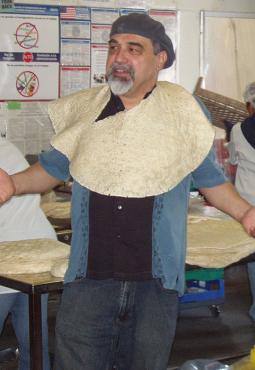 Though still in physical therapy, Bravo ended 2017 much healthier than he began it.
He lost 50 pounds over the course of his treatment, which brought his weight, blood pressure and type 2 diabetes under control. His cancer experience, he said, has informed how he takes care of himself now, and influences the creative direction he follows and the time he devotes to his art.
Unorthodox Media
With his creative juices flowing, Bravo decided to incorporate his illness into his art — literally. He used gauze and bandages he wore as a patient, shaping them into a sling shot, with cancer being the Goliath to his David. The syringes used to keep him nourished while unable to eat or swallow became a crown surrounding the radiation mask that reminds him of what he has come through.
Bravo has always been drawn to unorthodox media in his art. Born in San Jose, California, he spent much of his childhood in the border town of Calexico. It was there that his art career began: He used mud to make figurines, scrap wood to carve into toy swords, and created other pieces from objects he found, since he had very few store-bought toys to play with.
"Necessity fuels creativity," he said.
When the family relocated to Wilmington in the South Bay area of Los Angeles, Bravo excelled as an art student at Banning High School. He later graduated from California State University Northridge, where he was a graphic artist for a Chicano newspaper, El Popo.
In addition to work as an art director over the years, Bravo received commissions to paint murals from the California Art Council and the L.A. Citywide Mural Project. He is perhaps best known for the provocative mural he painted on the Wilmington Recreation Center — "Willhall" as it is popularly known — back in 1976, to protest gang violence.
A landmark of the area, Bravo has performed restorations on the 40 year-old mural three times: 1996, 2003 and the year after his treatment ended. Some of the youth in the area have even had their bodies tattooed with the image of the mural.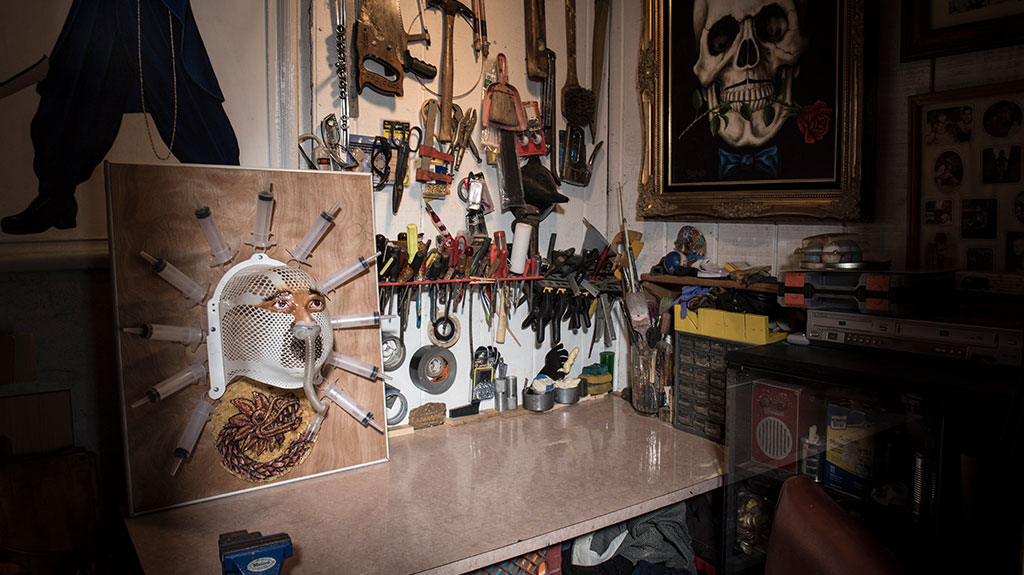 Tortilla Art
Bravo gained acclaim and notoriety for his use of tortillas as his canvas more than a decade ago. Collections of his "Tortilla Art" have appeared in galleries throughout Los Angeles, Las Vegas, Miami and Hong Kong. Images and articles of the artwork have appeared in the Los Angeles Times, the Washington Post and in publications around the world.
"For me, the tortilla was a canvas that represented an integral part of my Latino culture and heritage, which I am very proud of," he said.
Today, Bravo continues to explore alternate media to follow his creative muse. He is emboldened and renewed, he said, after his care and treatment at City of Hope and now being cancer-free.
"My care at City of Hope was the very best," he said. "Frankly, I was surprised at the level of care and attention I was getting. It was like having a health valet service. My nurse called me at home to make sure my meds were fine, just to check up on me to see how I was doing, if I needed anything.
"And Dr. Chen was so great to me. She's a fun, big personality, and a caring and very skilled doctor."
Chen is also a fan of her patient. "Joe is a one-of-a-kind fellow," she said. "He showed me pictures of his tortilla art the first day I met him. I observed throughout his treatment how he thinks of everything through the eyes of an artist.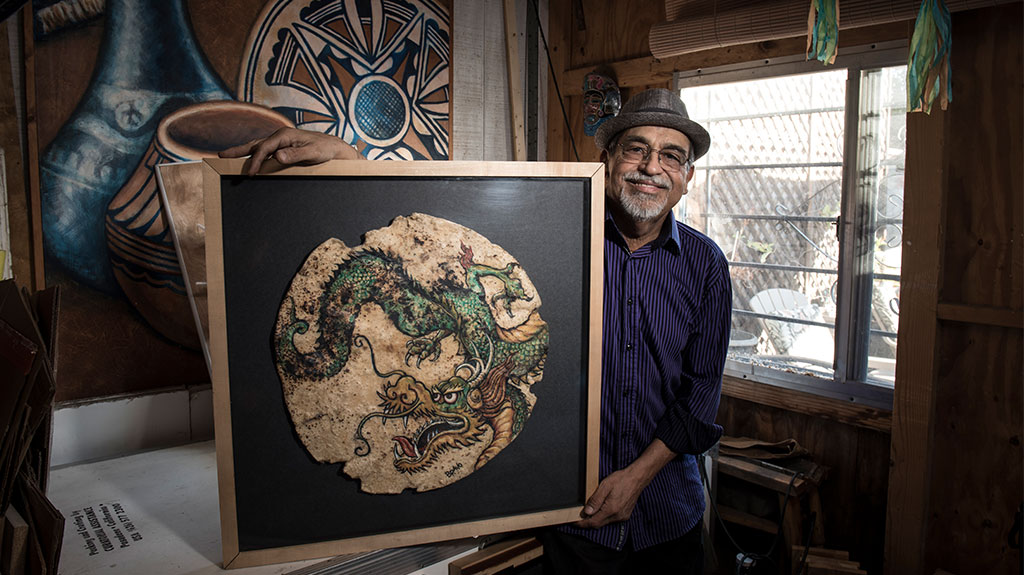 Bravo displaying one of his iconic works on a tortilla canvas
"When he completed treatment, he even turned his radiation mask into a work of art! I really enjoyed getting Joe through this, and appreciate his wish to help others with his art."
Chen has one of Bravo's artworks framed in her office, which she said reminds her of her patient every day.
"I can't say this was a bolt of lightning that changed my outlook completely after going through cancer, like in the movies," Bravo said of his cancer journey. "It wasn't that dramatic. What it did do was refocus my energies and helped me reset my priorities.
"I don't sweat the little things. I have two sons, grandchildren and family that are a priority for me, and I am committed to creating something new every day."
And, like the pareidolic shapes he see in tortillas, Bravo has turned his art into a way to decipher something new and previously unseen in his own life.
"I think art releases certain, not just emotions, but goals we have," he said. "There's nothing there but you create an illusion with your imagination and your skills. You shouldn't be afraid of that but embrace your creativity."