Breast Cancer Survivorship Program
Mission: Empowering breast cancer survivors to thrive through research, education, psychosocial support and high-quality clinical care
Vision: Maximizing wellness for all people affected by breast cancer
What the Breast Cancer Survivorship Program offers:
Clinical follow-up care
Surveillance for recurrence and second cancers
Monitoring and management of long-term side effects
Cardiovascular and bone health screening
Lymphedema prevention and management
Personalized Survivorship Care Plan
Health and wellness education
Psychosocial, spiritual and practical support
Integrative medicine including yoga, acupuncture, meditation and massage therapy
 
What a Typical Visit Looks Like
At your first visit, you will receive your personalized Survivorship Care Plan. This plan includes a written record of your cancer treatment and follow-up recommendations based on your treatment history and specific circumstances. The survivorship nurse practitioner will go over your plan in detail, address any questions or concerns you may have and make any necessary referrals. You will receive information about any treatment-related health problems that you may have, along with recommendations for management of these problems.
For your survivorship follow-up appointments, you will be seen in the Breast Cancer Survivorship Clinic every six months to a year. The survivorship nurse practitioner will talk with you about your diagnosis, treatment history and ways to stay as healthy as possible. Your medical history and any symptoms you are having will be reviewed with you by the survivorship nurse practitioner. You will undergo a physical examination and have screening tests based on the treatment that you received. Additional testing or referrals may be recommended, if needed, based on this evaluation.
 
Meet your Breast Cancer Survivorship Nurse Practitioner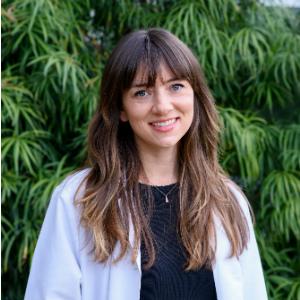 Brittany Bradford, M.S.N., N.P.
I've Finished Treatment, Now What?
Thriving After Cancer
Join City of Hope experts as we explore challenges in survivorship and ways to overcome them.

Learn more about the challenges you may face after treatment ends and gain tips from City of Hope experts on how to take control of your life and truly thrive after cancer. These sessions are focused on life after treatment has ended, but they are open to all patients and caregivers, regardless of treatment status. Visit event.cityofhope.org/thriving to find more information and upcoming sessions. 
Return to Wellness: Education, Support and Empowerment for Life After Treatment
City of Hope is proud to partner with the Cancer Support Community, Pasadena (CSCP) to offer Return to Wellness. 
Return to Wellness is an eight-week survivorship series for breast and gynecological (cervical, ovarian, uterine, vaginal, and vulvar) cancer survivors. 

This program is available for women who have completed active treatment for breast or gynecological cancer within the last 2.5 years.
This interactive eight-week series will offer:
weekly support group

strength training class

educational workshop

yoga class
It is a wonderful bonding experience with other women who are at a similar juncture in their cancer experience, and it is a helpful program to bridge the gap between treatment and recovery.
Spanish Language Return to Wellness Volver al Bienestar now available!
In 2022, will take place from September 27 to November 17 and will meet on Tuesdays and Thursdays from 6:00 – 8:00 pm.   
Contact Melissa Parra (213) 262-8370, m.parra@cscpasadena.org
Volver al Bienestar: en español será sin costo, el programa de Sobreviviente será ofrecido por 8 semanas para mujeres que han completado tratamiento de pecho o ginecológico (cervical, ovario, uterino, vaginal, y vulvar) canceres. El programa consiste en un grupo de apoyo, entrenamiento de fuerza, talleres educativos, y clases de yoga seminales, facilitado por un profesional. Sera una buena experiencia y oportunidad para crear lazos duradera con otras mujeres que estén pasando en una coyuntura similar en su experiencia con cáncer. El programa es importante y útil para crear un puente entre tratamiento y recuperación.
Este programa esta disponible para mujeres que han completado tratamientos activos de seno o ginecológico canceres entre 2.5 años. Volver al Bienestar empieza el 27 de septiembre al 17 de noviembre y se reunirán los martes y Jueves de 6-8pm. Actualmente, CSCP esta planeado para que el programa sea en persona en las oficinas de Pasadena. Se requiere está completamente vacunada para participar. 
Por favor haznos saber si esta interesada para aprender más sobre este emocionante programa que estamos ofreciendo. Registración será limitada, en cuanto haga su decisión de participar, comuníquese con nosotros para empezar el proceso de matriculación. Hable con Melissa Parra (213) 262-8370,  m.parra@cscpasadena.org. 
Es un programa tan útil, impactante y significativa para ser parte de y esperemos que lo aproveche.