Jung Soo Lee turned to sarcoma specialist William Tseng, M.D., for help with her retroperitoneal leiomyosarcoma, a tricky mass that required a team to conduct a 13-hour surgery
Jung Soo Lee takes pride in what she's accomplished on her own. 
Born in Seoul, South Korea, Lee speaks perfect, unaccented English — she spent a few years of her childhood in the U.S. as her father worked toward a master's degree and held various consular posts.
In her late twenties, Lee decided to move to the U.S. for good, by herself, to fulfill her own academic and career dreams. She is pursuing a Ph.D. at University of California Irvine, specializing in English studies with an emphasis on science fiction and disability.
Fiercely independent, Lee hates to ask for help and dreads ever becoming a burden. Her outward demeanor can be deceptive: She delivers her words in a quiet, measured, near-monotone that belies the energy, drive and determination within.
She is fit and strong, adept at martial arts. But she is not healthy, and never really has been.
Battled Cancer as a Child
"I have a convoluted medical history," she said. "I was chronically ill as a kid."
At age 8, doctors discovered a rare neuroendocrine tumor (NET) on Lee's ovary. "Not your typical ovarian cancer," explained William Tseng, M.D., associate clinical professor in the Division of Surgical Oncology, Department of Surgery. Less than 1% of all tumors are neuroendocrine, less than 2% of NETs develop in the reproductive system and fewer still strike children.
"There are case studies about me," Lee said, ruefully. As a doctoral candidate working on her dissertation, "I am not happy that my first publication was as a case study."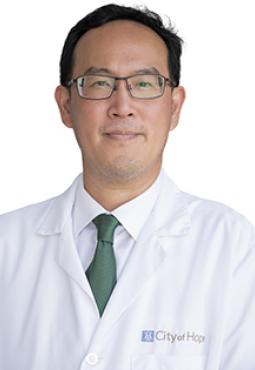 Her treatment included surgery to remove the ovary, plus radiation and chemotherapy. Every cancer treatment carries potential side effects and, in Lee's case, they were especially severe. The radiation damaged her kidneys, a condition that would complicate her life many years later in unexpected ways.
Living with chronic ailments, Lee grew accustomed to feeling unwell and, in her words, to "things going wrong. I also became adept at figuring out where any pain might be coming from." 
So, in mid-2022, when Lee, now in her early 30s, began experiencing abdominal pain, she assumed she was having a gallstone attack. When the "attack" persisted for six months, she went for an ultrasound and was shocked by the findings. 
"I'd been getting scans regularly because of my chronic illness," she explained. "Nothing was ever found. Then, we had to stop the scans for two years because of COVID. And when we resumed them, suddenly there's this mass inside."
It was a sizable mass — 5 inches long, 3 inches wide, 3 inches deep. Lee's oncologist couldn't identify what it was — the biopsy was "inconclusive." Of greater concern was the tumor's location, threatening her already damaged kidneys. In her condition, losing even one kidney to surgery might leave Lee in need of dialysis for the rest of her life. That was too much to bear.
"It was not a pleasant experience hearing that," recalled Lee, close to tears now. "I pride myself on being fit, despite everything. It would be hard to lose the life I know."
As if to add insult to injury, the surgeon refused to even attempt the procedure, giving the excuse that Lee had no family in the U.S. He dismissed Lee's extensive network of friends who would be there for her. 
New Hope
That's when, on her oncologist's recommendation, Lee pivoted to City of Hope, an institution she knew nothing about. In short order, she was meeting with Tseng. 
"She was very angry, nervous and scared, terrified," said Tseng, who specializes in large and rare sarcomas. He noticed Lee's somewhat aloof manner. He wasn't concerned. "I know that wasn't her true personality," he said. "People change when they're afraid." 
Tseng ordered a second biopsy and determined that Lee had a retroperitoneal leiomyosarcoma — an unusual tumor rising from the smooth muscle of the vena cava (the large vein that returns deoxygenated blood to the heart), deep in the rear of the abdomen. "It's the rarest of the rare," Tseng said.
And yes, the kidneys were in danger, along with the pancreas, duodenum and colon. But Tseng, a world-class sarcoma expert, believed he could safely remove the mass while preserving Lee's organs. 
And Tseng had no problem with Lee's lack of family around her. 
"I met her friends," he said. "Plus, I knew she was smart, capable, motivated and reasonable. I knew she had adequate support."
Lee knew she'd found the right surgeon.
"He was incredibly competent and confident he could take care of me," she recalled. "He was very reassuring, but also realistic and clear about the risks."
The risks were formidable.
"It was a difficult decision," said Tseng. "It was an aggressive tumor that could take her life. But she's so young, with her whole life ahead of her." Surgery that would leave her dependent on dialysis was unacceptable.
Furthermore, Lee's childhood chemotherapy treatments limited the options available to her now. That left surgery as the only real option — and everything depended on it. The stakes were high. "We had to succeed," Tseng said.
A Team of Experts
Tseng assembled a team of experts — including vascular surgeon Randall Roberts, M.D., and urologic oncology surgeon Jonathan Yamzon, M.D., associate clinical professor in the Division of Urology and Urologic Oncology — to cover every potential aspect of the long procedure. "There were a lot of conversations," he said. "This exemplifies what we do at City of Hope. I could not have done this surgery without all those collaborations."
Lee prepared for the worst and hoped for the best.
"I stocked up on a bunch of mushy food," she said, smiling. She would need all of it if her colon was compromised.
The food is still in the fridge.
The surgery took place in May 2023. Tseng says the 13-hour procedure went remarkably well, with no complications. The surgical team, led by Tseng, was able to meticulously peel away the entire sarcoma and save Lee's kidneys. A portion of the vena cava had to be removed and was replaced with a graft; everything else — the pancreas, duodenum and colon — was preserved. The tumor was removed with clean, though narrow, cancer free margins. "I was pleasantly surprised," Tseng  said.
So was Lee, though her initial reaction typified her independent streak. A friend who had accompanied Lee to the hospital had the privilege of being the first to see Lee postsurgery and tell her, "You still have all your organs!"
"That's great!" replied Lee. "Go home."
Later, she began to process things a bit more.
"I was very relieved," Lee said. This time, she remembers thinking, nothing went wrong. The other shoe didn't drop, as she'd expected. "I'm a pessimistic optimist. But things did actually fall in my favor for once."
Lee went home quickly and is recovering rapidly. She knows how lucky she is.
Back to School
"I'm so grateful to Dr. Tseng," she said. "I'm even grateful to the first surgeon who rejected me. If that hadn't happened, I never would have met Dr. Tseng."
Tseng is grateful too, for all the help he received from his City of Hope colleagues.
"I'm here only a year," he said. "And I am so thankful for such great camaraderie, such a top-of-the-line team."
He's confident Lee has beaten this sarcoma, explaining that abdominal recurrence is very low if all the tumor is removed. Nevertheless, it is possible for isolated cells to spread elsewhere, possibly to the lungs or the liver. Lee will continue to be monitored carefully going forward.
But right now, Lee has big plans. Not one to sit still, she continued publishing papers and attending conferences throughout her treatment. And it's full steam ahead. "I've got deadlines. I'm finishing my dissertation. I'm editing a journal. And I'm ready to enter the job market." She is thinking about dialing back her frantic pace though, just a bit. "Maybe more sleep, less caffeine."
More important, as she recuperates, aided by the love and support of her friends, this proud woman who hated to ask for help has made a profound discovery.
"Apparently," she says with just a few tears, "people don't consider me to be a burden."