Helford Hospital
Centrally located on our campus, Helford Clinical Research Hospital is City of Hope's inpatient care center. Its open lounge and lobby areas, abundant windows with spectacular mountain views, and broad layout create an environment that is peaceful and comfortable. Private patient rooms, recreation areas, and hand-painted artwork in our pediatric recovery area all show City of Hope's commitment to providing a healthy, peaceful care environment.

Nurses' workstations are located close to patient rooms to offer easy access and monitoring of patients' rooms for nurses and medical personnel. To provide timely care and help maintain a peaceful atmosphere, our units are equipped with Vocera devices, which provide personnel with real-time notifications without the need for a public address system. Our pediatric and intensive care units offer a satellite pharmacy, making it easier to provide timely care when needed.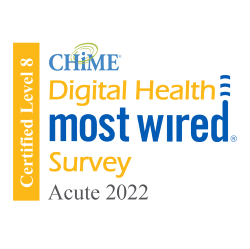 City of Hope Helford Clinical Research Hospital has been awarded Level 8 recognition for acute care in the Digital Health Most Wired Survey given by the College of Healthcare Information Management Executives. When compared to more than 38,000 other organizations, Helford Hospital ranked above peers in categories like analytics and data management, population health, infrastructure and patient engagement. This award recognizes City of Hope's leading-edge, optimal cancer care. 
Another unique advantage of Helford Clinical Research Hospital is the collaboration that occurs with other shared services and facilities at City of Hope. We work hard to get the newest treatment options from the laboratory bench to the treatment center, and because of this, our patients have unique opportunities to be involved in clinical trials to establish new, effective treatment therapies.
At City of Hope, we value a strong community. Our daily staff huddles not only allow care providers to monitor patient care effectively and relay important feedback and highlights, but they also build healthy interaction and makes us a more effective community. Other community-building events, community recognition awards, and encouragement boards are also a part of what make City of Hope a unique and healthy place. 
With a peaceful atmosphere, our dedication to strong community, and a focus on delivering the latest treatment therapies and research, Helford Clinical Research Hospital embodies the best of what we do at City of Hope to improve patients' lives and fulfill our mission.