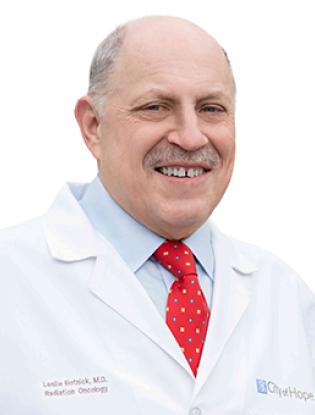 Radiation Oncologist
Clinical Expertise
Breast Cancer
Prostate Cancer
Pancreatic Cancer
Rectal Cancer
Hodgkin and Non-Hodgkin Lymphoma
Appointments
Senior Medical Director, Radiation Community
Assistant Clinical Professor, Department of Radiation Oncology
From our very first meeting, Dr. Botnick put my mind at ease while discussing my treatment." - Patient

In practice for some 40 years, Leslie Botnick, M.D., has made a difference in countless lives. He helped bring about the significant advance of treating many breast cancer patients with lumpectomy plus radiation. Dr. Botnick is also recognized as a leader in stem cell research and late effects of chemotherapy on bone marrow.

From his early days at New York Medical College, through his subsequent training at Harvard and distinguished career at premier institutions in Boston and Southern California, Dr. Botnick has remained at the top of his profession and at the leading edge of advancements in radiation oncology.

Consistently rated one of the "Best Doctors in America," Dr. Botnick's greatest achievement may well be his ability to connect with his patients and communicate vital information in understandable terms.
1972, M.D., New York Medical College, Valhalla, NY

1968, B.A., Brooklyn College, Brooklyn, NY
1976-1977, Clinical Fellow, Radiation Oncology, Joint Center for Radiation Therapy, Boston, MA

1975-1976, Research Fellow, Radiation Oncology, Joint Center for Radiation Therapy, Boston, MA

1973-1975, Clinical Fellow, Radiation Oncology, Harvard Medical School, Boston, MA
1975-1976, Chief Resident, Radiation Oncology, Joint Center for Radiation Oncology, Boston, MA

1973-1975, Resident, Radiation Oncology, Joint Center for Radiation Oncology, Boston, MA
1972-1973, Medical Intern, Metropolitan Hospital, New York, NY
2018-present, Senior Medical Director, Radiation Community and Assistant Clinical Professor, Department of Radiation Oncology, City of Hope, Duarte, CA

2006-2020, Radiation Oncologist, The Center for Radiation Therapy of Beverly Hills, Beverly Hills, CA

2002-2018, Co-founder and Chief Medical Officer, Vantage Oncology Inc., Manhattan Beach, CA

1995-1999, Co-founder, SalicNet Managed Care Program

1993-1999, Corporate Director, Radiation Oncology, Salick Health Care, Los Angeles, CA

1983-2018, Founder and Chief Executive Officer, Valley Radiotherapy Associates Medical Group Inc., Manhattan Beach, CA

1983-1997, Director, Radiation Oncology, Providence St. Joseph Medical Center, Burbank, CA

1979-1983, Director, Radiation Oncology, Beth Israel Hospital, Boston, MA
1996-present "Best Doctors in America"
American College of Radiology

American Society of Therapeutic Radiology and Oncology

New England Society for Radiation Oncology

Cell Kinetics Society

Radiation Research Society

American Society of Clinical Oncology

American Association for Cancer Research

Los Angeles County Medical Association

California Radiology Society

California Medical Association

Los Angeles Radiological Society

Southern California Academy of Clinical Oncology

Society for the Study of Breast Disease
Yang YT a*, Pike ER b, Rose CM c, Botnick L c. The rise in bilateral mastectomies: Evidence, ethics, and physician's role. ELSEVIER The Breast. Y.T Yang et al. / The Breast 29 (2016) 160-162 (July 2016)
Tao ML abc, Mautner BD b, Ray HE bd, Huson HB e, Sanghani MV ac, Llamas ML c, Botnick LE ab. Long-term community-based results of breast-conserving therapy in early-stage breast cancer. The Journal of Community and Supportive Oncology. JCSO 2016;14:249-254 (June 2016).
Hellman S, Botnick LE, Mauch P. Stem-Cell Biology and Cancer Therapy: The More Things Change...J. Clin. Oncol. 26:6, 821-822, 2008.
Turner RR, Chu KU, Qi K, Botnick LE, Hansen NM, Glass EC, Giuliano AE. Pathologic features associated with nonsentinel lymph node metastases in patients with metastatic breast carcinoma in a sentinel lymph node. Cancer 2000 August 1; 89(3):574-81.
Rosen E, Goldberg I, Rose CM, Come S, Goldstein M, Simon L, Botnick LE. Sequential multiagent chemotherapy and whole abdominal irradiation for Stage III ovarian carcinoma. Radiotherapy and Oncology 1986.
Silverman D, Edbril S, Gartrell N, Wise S, Liao-Rosenblatt E, Huntley B, Botnick LE. A pilot study of women's attitudes toward breast conserving surgery with primary radiation therapy for breast cancer. Intl. J. Psychiatry in Medicine, 4:15, 281-391, 1985.
Recht A, Danoff B, Solin L, Schnitt S, Connolly J, Botnick LE, Goldberg I, Goodman R, Harris J. Intraductal carcinoma of the breast: Results of treatment with excisional biopsy and irradiation. J. Clin. Oncol. 3:10, 1339-13, 1985.
Botnick LE, Hoppe RT, Kim J, Travis EL, Strober S, Bloomer WD. Radiation therapy for immunosuppression and marrow or organ transplantation. Cancer Treatment Symposia 1:161-168, 1984.
Beadle GF, Harris JR, Silver B, Botnick LE, Hellman S. Cosmetic results following primary radiation therapy for early breast cancer. Cancer, 54:2911-2918, 1984.
Botnick LE, Rose CM, Goldberg I, Recht A. The role of radiation therapy in the treatment of laryngeal cancer. Otolaryngologic Clinics of No. America, 17:227-235, 1984.
Mauch P, Weinstein H, Botnick LE, Belli J, Cassady JR. An evaluation of long-term survival and treatment complication in children with Hodgkin's disease. Cancer 51:925-932, 1983.
Greenberger JS, Hoffman N, Leiberman M, Botnick LE, Sakakeeny MA, Eckner RJ. Pool size of pluripotential hematopoietic stem cell increased in continuous bone marrow culture by Friend spleen focus-forming virus. J. Natl. Cancer Inst.70:323-331, 1983.
Hellman S, Reincke U, Botnick LE, Mauch P. Functional organization of hematopoietic stem cell compartment; implications for cancer and its therapy. J. Clin. Oncol.1:277-284, 1983.
Ratings and reviews below are gathered from the Press Ganey Clinician and Group Consumer Assessment of Healthcare Providers and Systems (CG CAHPS) survey. CG CAHPS is a standardized survey that is used to measure a patient's experience in the physician office setting. Ratings are an average of all responses to questions about a provider's care, with 5 stars being the highest.
Ratings
5.0
Show respect for what you say
5.0
Recommend this provider office
4.9
Spend enough time with you
4.9
Provider explain in way you understand
4.9
Provider listen carefully to you
4.7
Know important info medical history
---
Reviews
Dr Botnick has been my trusted doctor for [...] years through [...] cancers
- Verified patient
The provider did a great job.
- Verified patient
They did a terrific job from the beginning. My favorite provider of all those we have seen. Very professional and understanding.
- Verified patient
Dr. Botnick, aka Leslie, was wonderful. I've already recommended him to others.
- Verified patient
Very pleased. [...] this was beyond Great
- Verified patient