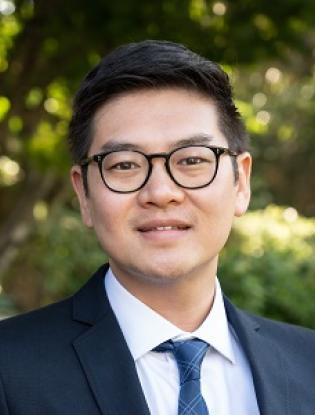 Urologic Surgeon
Clinical Expertise
Male Fertility
Sexual Dysfunction
Reconstructive Surgery
Appointments
Assistant Clinical Professor, Division of Urology and Urologic Oncology, Department of Surgery
I chose City of Hope because I wanted to be part of a group with a reputation in the community for outstanding and passionate patient care.
Michael Lao, M.D., is a trained urologist and surgeon with expertise in robotic procedures, as well as the profoundly personal areas of male fertility, sexual dysfunction and reconstruction. He always keeps in mind that "we have the amazing honor to be able to take care of patients with very sensitive and quality-of-life concerns."
Dr. Lao received his medical degree at Albany Medical College in Albany, New York, and continued his training with residencies in surgery and urology at University of Connecticut in Farmington, Connecticut. He completed his fellowship at The Smith Institute for Urology, North Shore Health System, New Hyde Park, New York.
Dr. Lao treats patients at our Antelope Valley and Santa Clarita locations, where he invests considerable time building and maintaining relationships. "I am constantly reminded and awed by the enormous impact we can achieve and the relationships we are able to share with our patients," he says.
2013, Doctor of Medicine, Albany Medical College, Albany, New York

2009, Master of Arts, Medical Sciences, Boston University School of Medicine, Boston, Massachusetts

2006, Bachelor of Science, Biochemistry and Cell Biology, University of California San Diego, La Jolla, California
2018-2019, Fellowship, Men's Health & Andrology, North Shore Health System, The Smith Institute for Urology, New Hyde Park, New York
2014-2018, Residency, Urology, University of Connecticut, Farmington, Connecticut

2013-2014, Residency, General Surgery, University of Connecticut, Farmington, Connecticut
2019-present, Assistant Clinical Professor, Division of Urology and Urologic Oncology, Department of Surgery, City of Hope, Duarte, California
2013, Alpha Omega Alpha, Albany Medical College

2009, Excellence with Research in Honors, Albany Medical College
Medical Students Investigation Day

2009, Honors Recognition for Master's Thesis, Boston University
"An Alpha-1A Adrenergic Receptor Subtype Agonist to Treat Cardiomyopathy."
Alpha Omega Alpha

American Society for Reproductive Medicine

American Urological Association

Sexual Medicine Society of North America

Society of Urologic Prosthetic Surgeons
Lao M, Graydon RJ, Bieniek JM. Salvage penile prosthetic surgery utilizing temporary malleable implants. Transl Androl Urol 2017. DOI: 10.21037/tau.2017.05.12.
Lao M, Honig S. Male Infertility and Subsequent Risk of Cancer Development. Journal of Men's Health, 11(6):19-29, 2015.
Lao M, Kogan BA, White MD, et al. High recurrence rate at 5-year follow up in children after upper urinary tract stone surgery. Journal of Urology, 191: 440, 2014.
Ratings and reviews below are gathered from the Press Ganey Clinician and Group Consumer Assessment of Healthcare Providers and Systems (CG CAHPS) survey. CG CAHPS is a standardized survey that is used to measure a patient's experience in the physician office setting. Ratings are an average of all responses to questions about a provider's care, with 5 stars being the highest.
Ratings
4.8
Show respect for what you say
4.8
Spend enough time with you
4.8
Provider explain in way you understand
4.8
Provider listen carefully to you
4.7
Recommend this provider office
4.5
Know important info medical history
---
Reviews
Good M.D.
- Verified patient
The best doctor and staff on my team very grateful and thankful for your professional and efficient Services thank you so much
- Verified patient
The best medical experience I've had compared to all of my doctors
- Verified patient
Dr Lao is very professional efficient courteous thorough and the best doctor I have had the pleasure of taking care of me I'm very grateful thank you
- Verified patient
Dr Lao listened carefully and provided very detailed answers.
- Verified patient