Alan & Marlene Norton Nurse Residency Program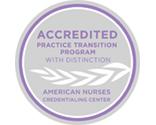 City of Hope's Alan & Marlene Norton Nurse Residency Program is an American Nurses Credentialing Center (ANCC) Practice Transition Accreditation Program (PTAP) accredited with distinction 12-month transition to practice program for new graduate RNs. It incorporates the Vizient/AACN Nurse Residency Program data collection tools, as well as incorporating ONS (Oncology Nursing Society) supplemental coursework focusing on in-depth knowledge of the care of the cancer patient.
 
The program begins with a structured, 12-week intensive classroom and clinical curricula. The residency provides in-depth knowledge of oncology care and fosters the development of communication, critical thinking and clinical reasoning skills, as well as fostering care and compassion for oncology patients and their families. The program also provides strategies for self­care and stress management and promotes career planning.
 
The program accepts new graduate BSN+RNs for the inpatient and ambulatory settings two to three times a year.
 
In January 2020, City of Hope successfully earned PTAP Accreditation with Distinction. PTAP sets the global standard for residency or fellowship programs that transition registered nurses and advanced practice registered nurses into new practice settings.