Nursing Awards and Recognition
The exceptional contributions of our nurses are regularly recognized via the monthly DAISY Award, the quarterly Clinical Advancement Program (CAP), and the annual Professional Practice Awards.
DAISY Award
The DAISY Foundation was established in 1999 by the family of J. Patrick Barnes who died of complications of the auto-immune diesase Idiopathic Thrombocytopenia Purpura (ITP) at the age of 33.  DAISY is an acronym for Diseases Attacking the Immune System. 

As a result of the amazing nursing care and compassion Patrick received during his 8 week hospitalization, his family wanted to recognize extraordinary nurses everywhere who make an enormous difference in the lives of so many people by the super-human work they do every day. The DAISY Award for Extraordinary Nurses is now an international program that rewards and celebrates the clinical skill and compassionate care given by nurses every day. City of Hope is proud to be a DAISY Award Partner!

The DAISY Program is coordinated by the Nursing Excellence and Quality Practice Leadership Team. Every month, a nurse is selected from the many nominations received by patients and families. 
Clinical Advancement Program (CAP)
The City of Hope Clinical Advancement Program (CAP) intent is to promote the professional nursing practice by recognizing and rewarding RNs who demonstrate personalized oncology nursing excellence and contribute to the continued development of nursing at City of Hope.
2021 Nursing Excellence Awards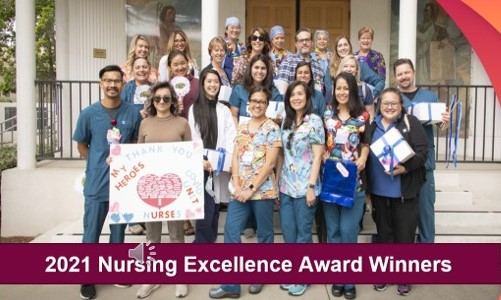 Lacy Jo Graham, DNP, NP, FNP & Brian Bowman, MSN, NP, AGACNP: Advanced Practice Providers
Caroline Krygsman, Unit Ambassador, 4East: Ancillary Care Provider
Crisis Response Unit (CRU): Daisy Team Award
Edyssa Uy, MSN, NP, AGPCNP: Excellence in Nursing Research, New Knowledge, Innovation
Nathan Duer, BSN, RN, BMTCH, Unit B: Exemplary professional Practice Nurse Leader
Outpatient Surgical Services: Interprofessional Collaboration
Anne Ireland MSN, RN, 4 East: Nurse Preceptor of the Year
Dr. Xiomara Rocha-Cadman: Physician Excellence
Pediatric Infusion RNs, Professional Nursing Certification
Tanya Zuniga, BSN, RN 4 East: Relationship Based Care Nursing Excellence
Michelle Garcia, BSN, RN QRRM: Transformational Nurse Leader
Carley Laliberte, BSN, RN, 4 East: Transition to Practice
2020 Nursing Excellence Awards
The annual Professional Practice and Scholarly Achievement Recognition Ceremony was held virtually on August 25, 2020. The afternoon of recognition was led by Susan Brown, CNO who presented awards to the following  honorees: 
 
Excellence in Care Collaboration Award—Martha Delgado, CNA 
Advanced Practice Professional of the Year—Kathleen Burns, MSN, NP
Physician Excellence in Collaborative Practice Award—Brian Tiep, MD
Community Service Spirit Award—Susan McCreary, RN
Nurse Preceptor of the Year—Jamie Hale, BSN, RN
Nursing Excellence in Evidence Based Practice —Kathy McNeese, MSN, RN
Direct Care Nurse Leader of the Year—Renee Mashikian, MSN, RN
Nurse Leader of the Year—Kaddie Lopez, MSN, RN
Excellence in Nursing Award—Kristina Antonio, BSN, RN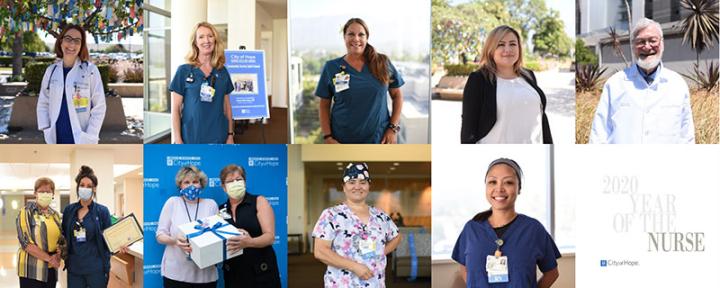 Top Row: Kathleen Burns, MSN, NP; Susan McCreary, RN; Renee Mashikian, MSN, RN; Kaddie Lopez, MSN, RN; Brian Tiep, MD
Bottom Row: Jamie Hale, BSN, RN; Kathy McNeese, MSN, RN; Martha Delgado, CNA; Kristina Antonio, BSN, RN