Child Life Programs
Being sick and coming to the hospital, or having a loved one who is sick, can be a stressful time for a family. Child life specialists help reduce that stress and anxiety as much as possible.
City of Hope's expert child life specialists work with patients and families to support the physical and emotional well-being of patients and families.
What Is a Child Life Specialist?
Children, teens and young adults need experts specially trained to help with their unique needs. Child life specialist are certified by the Association of Child Life Professionals and have master's degrees with backgrounds in child/human development, education, psychology and other related fields.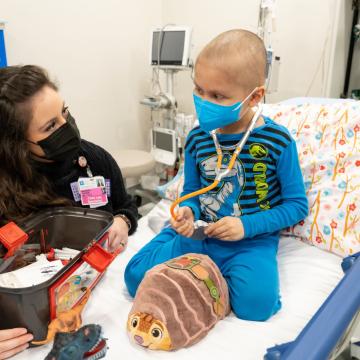 Child Life Practicum and Internships — For more information, please contact Marisol Trujillo, MS, CCLS at mtrujillo@coh.org
Children's Lives Include Moments of Bravery (CLIMB): A six-week program for children who have a family member with cancer. Facilitates discussion on how to maintain open communication and coping skills, while teaching children about cancer.
City of Hope Bereavement Support Group. 12-week program for children, teens, parents, adults and significant others. Also available in Spanish
Beads of Courage Program — Through a tangible symbol of beads, this program integrates the use of beads to honor courage, resilience and affirm the experience of human compassion.
Dec My Room — Program to create a healing space for hospitalized children and teens
CCTV activities for patients and families (Smart TVs in hospital rooms)
Resources for Patients and Families 
Pediatric and Adults Services
Basic Text Field
Patient and family support
Developmentally appropriate clinical education
Therapeutic activities
Sibling Support
Bereavement and grief support with legacy building
Comprehensive assessments
Basic Text Field
 Help with social, emotional, developmental and clinical education needs of every child/teen/young adult
Clinical education for diagnosis, treatments, side effects and procedures that are age-appropriate 
Sibling education and support 
Before and after surgery procedure education and accompanying patients
Preparation for visitations
Fun and therapeutic play to make being hospitalized less stressful and to enhance coping skills 
Grief and bereavement support with legacy building 
Literary resources 
Televideo services 
Basic Text Field
Inpatient Pediatric Unit
Outpatient Pediatric Clinic
Inpatient Adult Unit
Outpatient Adult Unit
Upland Clinical Network Site
Talking with Your Child
Thank you for watching the Talking with Your Child About a Cancer Diagnosis video! Please help us improve our services by answering this short survey about the video Child Life Video Survey . This survey will take less than 3 minutes. Thank you.
 
Hablando con Su Hijo
¡Gracias por ver el video "Hablando con su hijo sobre un diagnóstico de cáncer! Ayúdenos a mejorar nuestros servicios respondiendo a esta breve encuesta Encuesta sobre el vídeo de Child Life [Child Life Video Survey Spanish] sobre el video. Esta encuesta tomará menos de 3 minutos. Gracias.
Connect with Us
Contact Jo-Ann Namm, Child Life Services Program Manager