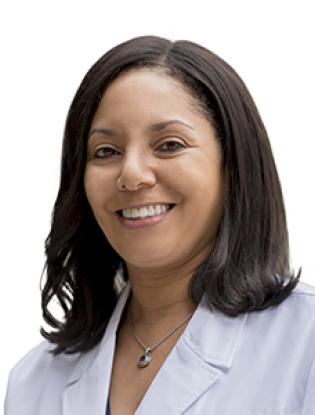 Radiation Oncologist
Clinical Expertise
Partial Breast Irradiation
Stereotactic Radiosurgery
Breast Cancer
Central Nervous System Cancers
Appointments
Assistant Clinical Professor, Department of Radiation Oncology
Tara Washington, M.D., is a board-certified radiation oncologist bringing more than twenty years of experience to City of Hope. She is well-versed in many radiation treatments, including partial breast irradiation and stereotactic radiosurgery.

After earning a Bachelor of Science from M.I.T., Dr. Washington received her medical degree from the University of Michigan, Ann Arbor. She continued her training at Henry Ford Hospital in Detroit, MI and Loyola University Hospital in Maywood, IL.

Before arriving in Southern California in 2007, Dr. Washington was a fixture of the Detroit medical community for 13 years, serving as Clinical Chief at several institutions.

Dr. Washington is a sought-after public speaker and medical authority. She's hosted "The Medical Hour" radio program in Detroit, spoken frequently to community groups and delivered research presentations in South Korea, Qatar and Turkey.
1995, American Board of Radiology Radiation Oncology

1991, National Board of Medical Examiners
1990, M.D., University of Michigan, Ann Arbor, MI

1986, B.S., Massachusetts Institute of Technology, Cambridge, MA
1991 - 1994, Resident, Radiation Oncology, Loyola University Hospital, Maywood, IL
1990 - 1991, Intern, Henry Ford Hospital, Detroit, MI
2018 - present, Radiation Oncologist and Assistant Clinical Professor, Department of Radiation Oncology, City of Hope, Temecula and Wildomar, CA

2007 - 2018, Radiation Oncologist, Vantage Radiation Oncology Center, Wildomar, CA

2007 - 2018, Radiation Oncologist, Vantage Radiation Oncology Center, Redhawk, CA

2004 - 2007, Clinical Chief, Gershenson Radiation Oncology Center, Karmanos Cancer Institute, Detroit, MI

2001 - 2003, Clinical Chief, Sinai-Grace Radiation Oncology Center, Detroit, MI

1996 - 2001, Clinical Chief, North Oakland Radiation Oncology Center, Pontiac, MI

1994 - 1996, Attending Radiation Oncologist, Karmanos Cancer Institute, Multidisciplinary Breast Cancer Team, Detroit, MI
McCall A, Leybovich L, Deveanna W, Washington TA. Phantom Evaluation of Heat Distribution in Tissues Surrounding a Silicone Gel Implant. Breast Disease, 8:141-147, 1995.
Aref A, Youssef E, Washington TA, Segel M, Grigorian C, Bongers S, Bouman D. The value of Post Lumpectomy Mammogram in the Management of Breast Cancer Patients Presenting With Suspicious Microcalcifications. Cancer Journal Sci Am. 2000, Jan-Feb, 6(1) 25-27.
Newman, LA, Washington, TA: "New Trends in Breast Conservation Therapy" Surgical Clinics of North America 83 (2003) 841 -843.
M.A. Al-Abbadi, T.A. Washington, S.E. Tekyi-Mensah, H.A. Saleh, D.R. Lucas, and C.A. Briston. Wayne State University, Detroit, Michigan. Differential Expression of Her-2/Neu Receptor of Invasive Mammary Carcinoma Between Caucasian and African American Patients in the Detroit Metropolitan Area. Correlation with Overall Survival and Other Prognostic Factors. Breast Cancer Research and Treatment, January 2006. (DOI 10.1007/s10549-005-5149-z)
Ratings and reviews below are gathered from the Press Ganey Clinician and Group Consumer Assessment of Healthcare Providers and Systems (CG CAHPS) survey. CG CAHPS is a standardized survey that is used to measure a patient's experience in the physician office setting. Ratings are an average of all responses to questions about a provider's care, with 5 stars being the highest.
Ratings
5.0
Provider listen carefully to you
4.9
Know important info medical history
4.9
Show respect for what you say
4.9
Spend enough time with you
4.9
Recommend this provider office
4.9
Provider explain in way you understand
---
Reviews
Yes City of Hope gave me Hope that can beat this Fast
- Verified patient
Very professional.
- Verified patient
D. Washington was very thoughtful and and answered all my questions and concerns in a easy way, she's a sweet person.
- Verified patient
Very good experience
- Verified patient
Easy to talk to my Dr.
- Verified patient