Values and Culture
Our Mission:
By offering exquisite care, conducting innovative research, and championing vital education concerning topics of cancer and diabetes, our experts draw practical benefits from the mysteries of science and work to save and change lives.
In short, we turn hope into reality.
Compassion
We hold compassion at our very core. It's compassion that extends to and among our patients, their families and our team members.
It's compassion that takes form not only in the treatments we offer, but also in our tireless efforts in philanthropy and advocacy, our humanistic approach to research and care, and our dignified, day-to-day relationships with every individual we encounter.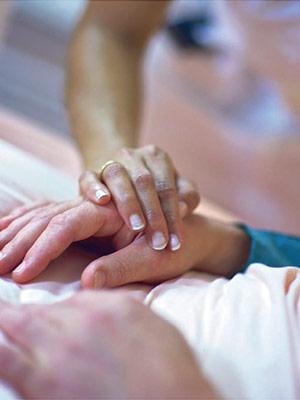 Service with a Sense of Urgency
We focus on turning great science into practical benefit — as quickly and as powerfully as possible.
Driven to provide new treatments for more and more people every day, we tenaciously pursue new and better ways to improve the lives of people around the world.
Our passion for serving others extends to our own staff of experts — because providing our own team members with opportunities to strengthen communities helps all of us work more effectively.
Integrity
We choose the right path — not the easy one.
We promote a "just culture" environment that requires each of us to ensure the safety of those we serve. That means we do what's best for our patients, and for our community, every moment of every day.
Integrity guides our passionate engagement in our work, and it fuels our collective ability to conduct our business with transparency. We hold ourselves accountable for each of our commitments, and we'll always strive to do the right thing.
Intellectual Curiosity
Our long-standing reputation for scientific excellence stems from a determination to aggressively pursue new lines of inquiry. In spite of all of our successes, complacency is never an option.
We are lifelong learners who are committed to moving discovery forward for the benefit of patients and for health of the scientific community worldwide. We have created, and will continue to create, life-changing moments and lifesaving breakthroughs — including research that led to the development of the first synthetic human insulin, as well as the introductions of numerous cancer-fighting drugs.
Excellence
Coupled with our compassionate care, our commitment to the advancement of science has established us as the standard bearer in the fights against diabetes, cancer, and other life-threatening diseases.
Without ever compromising safety, we strive for excellence in our processes and outcomes. We encourage each expert on our team to use his or her best judgment while making decisions that align with our mission, our values, and our worldwide reputation for excellence.
Collaboration
Our work is challenging — but our common purpose moves us toward remarkable achievements that are changing the lives of others.
As a synergistic community of experts, we regularly combine the resources of leading-edge scientific research, drug manufacturing, clinical care, graduate education, philanthropy and supportive care services.
And we're proud of the results.
Recognizing the value of bringing together diverse perspectives, we promote grand new partnerships and the free exchange of knowledge — an exchange that brings the best possible minds together for a powerful common purpose.